Thank you for your purchase!
ONE TIME 30% OFF OFFER + FREE SHIPPING
You won't get this price EVER again!
OVER 79% OF CUSTOMERS CHOSE THIS EXCHANGE!

Just SGD$29.90 more to upgrade your Essentials Starter Kit to a Complete Starter Kit. You save SGD$28.20!
Get additional makeup remover, moisturizer, sunscreen and try the whole range as a routine together.
The Complete Starter Kit is highly recommended if you have dry skin or use makeup/sunscreen because our products have been formulated and tested by acne-prone skin.
Clear Skin Complete Starter Kit
Get visible improvements in 7 days (or your money back)
Usual Price : $93
Now : Add $29.90 Only to exchange Clear Skin Essentials Starter Kit to Clear Skin Complete Starter Kit.
"It's been a week since I've used the products and I've already seen results. The glow exfoliant and hydrating serum are great. New pimples are smaller and skin is less oily."
Hurry this offer ends in
15:00
Acne is commonly caused by clogged pores or even due to sensitive skin. Finding the right products to build a proper anti-acne skincare routine can be overwhelming and confusing, while medical treatments can get expensive and unsustainable. Aside from the physical changes like permanent scars, the emotional toll often leads to low self-esteem and even depression.
Skinlycious Clear Skin Complete Starter Kit, a full range of gentle effective products, specially curated to complement one another to revive young and healthy skin, helps to reduce acne overnight. Backed by 22 years of acne-fighting experience, Skinlycious revolutionary half-face test uses a science-based approach to help determine an anti-acne routine that works best for each individual, saving time and money. Chart a tested-and-proven path towards smooth, radiant and blemish-free skin.
Hurry this offer ends in
15:00
REASONS WHY SKINLYCIOUS® CLEAR SKIN COMPLETE STARTER KIT WILL CHANGE YOUR LIFE
💚 EFFECTIVE ACNE TREATMENT PLANS: Skinlycious products and acne treatment plans are the results of cumulative experience of thousands of acne fighters. The Complete Starter Kit provides one with the full range of skincare needed to reduce acne and lighten post-acne marks, marking the first step towards a long-lasting solution for healthy clear skin.
💚 PERSONALIZED SIMPLE ROUTINE: Skinlycious novel half-face test was developed to help one determine the right products and acne treatment plan right from the start. Easily build a skincare routine that nourishes and strengthens skin back to healthy state, achieving balanced, glowing and smooth skin.
💚 FAST VISIBLE RESULTS: Thoughtfully developed to address skin sensitivity and acne skin concerns, the products in the clear skin starter kit work in synergy to fight acne at its core. Experience acne flattening overnight with less redness and less oiliness after 5 days of consistent usage.
💚 RESTORES HEALTHY BALANCED SKIN: All products in Skinlycious are purposefully formulated, based on science and founder's first-hand experience of 14 years struggling with problem skin, to revive stable and normal skin, reducing acne recurrence. Combat acne while building up skin barrier.
💚 WORKS FOR ALL AGES AND SKIN TYPES: Skinlycious Starter Kits are designed to allow individuals of all ages to mix and match tried-and-proven products and customize the best skincare routine before investing into full-sized products. Achieve luminous and clear skin effortlessly.
💚 SAFE FOR SKIN: Skinlycious products are formulated using only clean ingredients, without essential oils, fragrances, colorants, sulfates, parabens, phthalates, formaldehydes, essentially no nasties. Use with a peace of mind, even for sensitive, young, or problem skin.
Hurry this offer ends in
15:00
HOW TO USE
For the first 5 days, conduct the Half-face Test in the morning and evening:
Cleanse whole face with Calming Cleanser in the morning and evening. If you're wearing makeup or sunscreen, double cleanse in the evening by starting with Soothing Cleansing Gel first followed by Calming Cleanser.
On the RIGHT side of the face, use Glow Exfoliant on acne and post-acne marks only.
Apply Hydrating Serum to whole face.
On the LEFT side of the face, use Clarifying Serum on acne and post-acne marks only.
• If your acne is not on the left and right side of your face, test by using Glow Exfoliant on the upper side of your face, then Clarifying Serum on the lower side.
5. Moisturize with Skinlycious Barrier Booster Moisturizer if your skin feels tight after applying Skinlycious Hydrating Serum. If a richer moisturizer is needed, mix in or layer on Skinlycious Balancing Facial Oil.
For Younger Skin & Humid Climates : Hydrating Serum is usually enough as the sole moisturizer.
For Adult Skin & Drier Climates : Mix in or layer on Barrier Booster Moisturizer and add Balancing Facial Oil if a richer moisturizer is needed.
6. Apply Multi Protection Mineral Sunscreen on whole face in the morning only.
After 5 days:
• If all products are suitable, use Steps 1B to 6 in the morning and Steps 1A to 5 in the evening.
• Otherwise, continue to use the routine that worked best for you in the first 5 days.
Hurry this offer ends in
15:00
At its roots, Skinlycious was founded by just another acne sufferer, who for 14 years, tried many products, medications and aesthetic procedures but ended up disappointed and broken inside. By heart, we understand the pain of looking in front of a mirror, the hidden whispers, the double takes and sleepless nights. Researchers have found in study after study that acne has major negative effects on one's emotional health and can lead to anxiety, low self-esteem, depression and even suicidal tendency.
Thankfully, with Skinlycious Clear Skin Complete Starter Kit and our unique half-face test approach, treating acne is now more straightforward, as each product in the kit has been meticulously formulated to work synergistically to revive healthy skin. The curated easy-to-follow skincare routine is everything one needs, from gentle cleansing, spot treatment and oil-free moisturizing, to start achieving acne-free skin. Live life with newfound confidence and happiness, with smooth and glowing skin.
WHY THEY LOVE SKINLYCIOUS® PRODUCTS
AS FEATURED IN
AS FEATURED IN
---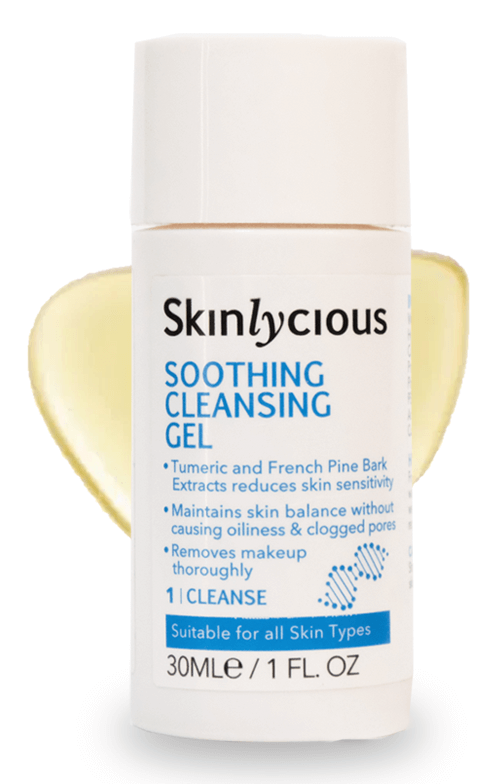 (1) Soothing Cleansing Gel: 30 ML
A triple-action cleansing gel that removes waterproof makeup and sunscreen thoroughly. Encapsulated Turmeric extract and French Pine Bark Extract strengthens skin barrier, relieves sensitivity and redness. Olive-derived Moisturizing Agent and plant-derived Saccharide Isomerate moisturizes and protects skin from irritation, leaving skin well-cleansed and balanced.
(1) Calming Cleanser: 30 ML
A Gentle cleanser with calamine reducing redness while lactic acid and whey return your skin to its natural pH. Plant-based surfactants cleanses gently and olive-derived moisturising agent moisturises and protects the skin from irritation. Leaving you with clean, soothed and balanced skin after every wash.
(2) Glow Exfoliant: 5 ML
A BHA/AHA exfoliant that acts as a fast-acting spot treatment that reduces acne with just one application. Purslane helps to soothe skin irritation and reduce sensitivity. Salicylic acid penetrates deeply into pores to dissolve clogs, reducing enlarged pores. Mandelic acid exfoliates surface dead skin cells, helping to fade post-acne marks and pigmentations to reveal glowing and healthy skin.
Full Ingredients List
(1) Hydrating Serum: 5 ML
An oil-free lightweight serum that hydrates deeply without clogging pores, leaving your skin feeling soft and supple. Sodium hyaluronate, PCA and amino acids, also know as natural moisturising factors, hydrates and strengthens skin barrier. Hydrated skin helps to regulate skin sebum secretion and balances the skin.

Full Ingredients List
(1) Clarifying Serum: 5 ML
A spot corrector with optimal concentration of stabilised Vitamin C and Vitamin B3(Niacinamide), reduces blemishes, bumps and spots quickly in just one or two applications without dryness. See your post-acne marks lighten and large pores reducing.
Full Ingredients List
(1) Barrier Booster Moisturiser: 5 ML
An antioxidant rich moisturizer with skin-identical blend of Ceramides, Cholesterol and Fatty acids locks moisture into skin and strengthens skin barrier. Lotus Leaf, Green Tea, Guava Leaf and Angelica Gigas Extract relieves skin irritations. Squalane, Jojoba oil, Grapeseed oil, Saccharide Isomerate, Panthenol moisturizes without clogging pores, leaving skin soft and supple.

Full Ingredients List
(1) Multiple Protection Mineral Sunscreen: 5 ML
A sunscreen with non-nano Zinc Oxide and Titanium Dioxide protects skin against 98% of UVB rays(SPF47) and offers high UVA protection(PA+++), without obvious white cast. Zinc Oxide soothes skin while Olive Leaf extract, a natural antioxidant and anti-pollutant gives added protection. Glides onto skin smoothly without leaving skin sticky or greasy. It doesn't cause breakouts too!
Full Ingredients List
Hurry this offer ends in
15:00
A SKINLYCIOUS® PROMISE
At Skinlycious, we believe in the efficacy of our products. If for any reason you are not completely satisfied with our products, we offer a 90 Day Money Back Guarantee for our Starter Kits. We take the risk out of ordering by offering an unmatched satisfaction guarantee.
You can also be assured of the quality of our products as we manufacture our products in a certified Good Manufacturing Practice(GMP) factory in Singapore. Rigorous lab testing and certifications have been done to ensure safety of our products.
Congratulations! You've found a hidden discount code! Use code "FREESHIP" at checkout to claim free shipping for your FIRST order today. Hurry before code is gone!
Customer Support Website Live Chat: Monday – Friday, 9am -6pm SGT, 10pm-7am SGT Open the speech icon at the bottom right corner of your screen to chat now. What's App Text: +65 8798 3397 Email: [email protected]
WHAT PEOPLE ARE SAYING
WHAT PEOPLE ARE SAYING
CUSTOMER REVIEWS

Hurry this offer ends in
15:00